Foals of 2003
(Click on Thumbnails for larger photos)
This page is designed for viewing a 800 X 600 pixels





This is me (Teri) in the arena having some fun with the foals one recent morning.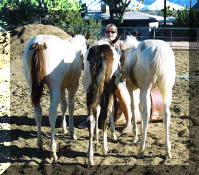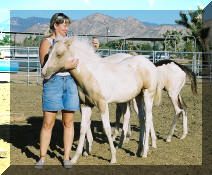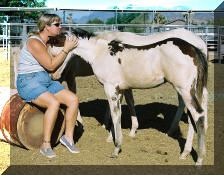 Turbo, Cisco & Gunner (left), Gunner (middle) and Cisco (right)
Above photos taken by Barbara Prestridge (Cisco's owner)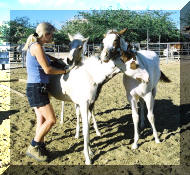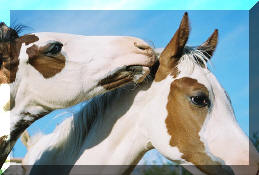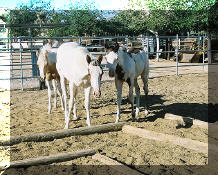 Barbara and the 3 Amigos having a group confab (left), Cisco loves his big sister, Turbo (middle) and
the 3 Amigos are wondering what to do with a trail course! (right)

Bay Frame Overo Colt
AKA "Cisco"
Gotta Wear Shades X Kenos April Fool (Coco)
Cocoa is a granddaughter of both Far Ute Keno & Blue Max
Born 4/27/03




Barbara and her newborn colt! She got everything she wanted in a foal,
A colt, the right color and pattern, and a blue eye!
Congratulations to Barbara Prestridge on her dream come true!

Palomino Tovero Colt
"Gunner" aka the G Man
Kenos Riverdance X CR Shaded Image (by Gotta Wear Shades)
Born 4/9/03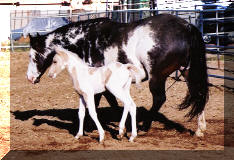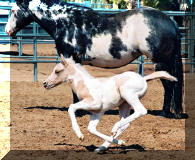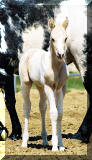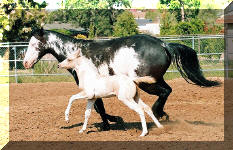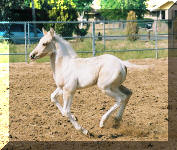 Gunner's future is being planned already! Hopefully within 3 years, he will be standing
along side of Grandpa Shades in our stallion line-up. He is quite the looker!

Chestnut Tovero Filly
AKA "Turbo" the Wonder Filly
Gotta Wear Shades X Eyes A Diamond Miss (Nuggets)
Born 2/11/03

This awesome filly is for sale, and will be available upon weaning!
Please contact the ranch for more information, or see the For Sale Page.



Chestnut Solid Colt
Gotta Wear Shades X Queens Blossom (APHA Breeding Stock)
Born 3/10/03

Congratulations to Jim Queen on the birth of this outstanding colt!

Home
Gotta Wear Shades
Horses for Sale
Foal Scrapbook


Our Mares
The CRR Horse Family
Links






Last Updated 8/29/03
All Photos taken by Teri McCormick
CRR2003