Gotta Wear Valentines
2000 Chestnut Breeding Stock Filly
Offered by T Bar T Ranch/Paint Horses





Click on the thumbnails for larger photos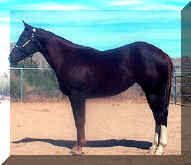 (Pictured as a late yearling, Oct. 2001)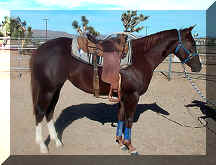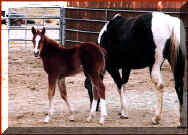 (Foal pictures are from birth to 4 mos.)

"Val" is a 2/2000 chestnut breeding stock filly. She is a quick learner,
is very athletic and has superb confirmation. Very kind and gentle and
loves people! Great show prospect, win with this filly at the futurities.
Clips, trailers, ties, round pens and hot walker. Has been saddled,
and is ready to start. Outstanding Youth/Ladies prospect.
Bloodlines include Sonnys Heir, Yellow Badger & Coys Bonanza.
Offered at $3000


Gotta Wear Valentines

Gotta Wear Shades

Chestnut Overo

Sonny Stallone
AQHA Sorrel

Sonnys Heir
AQHA

Happy Quest
AQHA

Badgers Dee Lite
Bay Overo

Yellow Badger
Sorrel Overo

KC Norfleet
Bay Solid

Sweet Siemon Dream

Bay Tobiano

San Siemon Bars
Bay Tobiano

Alsun
AQHA

Happiness Is
Bay Tobiano

Gabriellas Dream
Bay Solid

Barelyn Saint
Bay Tobiano

Miss Fern Bonanza
AQHA



Home

Horses for Sale

Fawna

Koda







Cactus Rose Ranch
David & Teri McCormick
55667 Mountain View Trail, Yucca Valley, CA 92284
(760) 228-1026



Last Updated 1/31/02